3 Bedrooms, 2.5 Baths, Full Width Balcony, Fantastic Ocean View
Enjoy a beautiful sunrise over the Atlantic ocean while listening to the relaxing sounds of waves and surf along the white sand beach from this well maintained, 3 bedroom, 2 1/2 bath, ocean front condo with updated kitchen, a large great room, and an extra-large wrap around beach front balcony that is accessible from every common living space and all three bedrooms. This unit, which sleeps up to 12 people, is privately owned and available for daily, weekly, or monthly rentals during the off-season and weekly rental during the peak summer months of June, July, and August. This vacation rental has an unobstructed view of the beach that must be seen to be fully appreciated. Please visit our photo album to see dozens of interior and exterior pictures of this condo and the shared amenities available to guests at the Sea Watch in Ocean City, Maryland.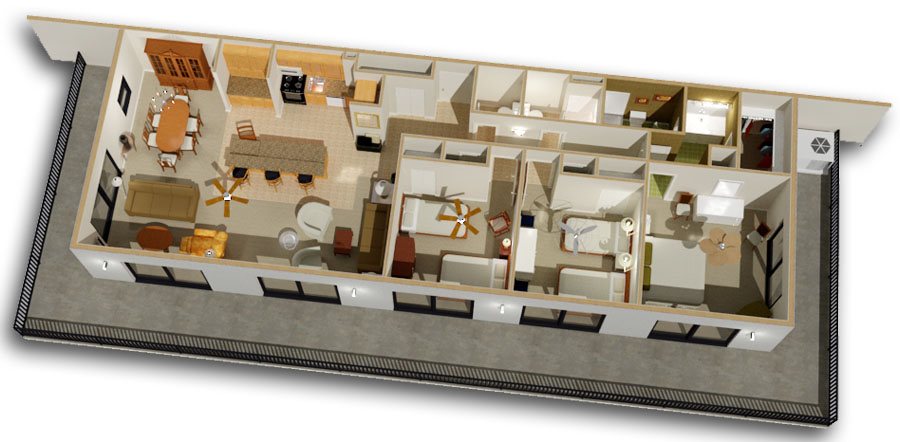 Wraparound Balcony Access from Almost Every Room
The Sea Watch Condominium is a Prime Waterfront Location
Located at 115th Street and Coastal Highway, the triangular shaped Sea Watch building is uniquely designed to offer some of the best beachfront views in Ocean City from virtually every condo unit. However, a relatively small number of prime properties are situated across the very front of the building such that their floor plans take full advantage of a large expansive balcony with unobstructed views of the beach looking north, south and east. Whether you wish to relax in solitude during the winter or people watch during the height of the busy summer season, Unit 100 offers great views over the naturally landscaped sand dunes to the beach and ocean beyond from almost every room.
Each of the three bedrooms has a sliding patio door that opens onto the balcony, which wraps around the corners of the building on both ends to offer north, south, and east facing views. Another feature of special note is the vertical location of unit 100. It is only 19 steps up from ground level. While the building has 6 elevators – 2 of which are being replaced with new high speed motors ready for use this summer – this particular unit is located on a lower floor so occupants are able to use the stairs immediately outside the unit, with no waiting, should they wish to make a quick run to or from the beach, visit the indoor pool, buy something in one of the shops in the outdoor courtyard, play pinball in the game room, lift weights and run a few miles in the exercise room, enjoy a relaxing sauna, or pickup something for dinner directly across the street at the Gold Coast Mall.